Choose a Domain...
Start your web hosting experience with us by entering the domain name you want to register, transfer or simply purchase hosting for below...
Our Server Features
We provide you with all the features your business needs to succeed. Our unique features separate us from the rest.
Firewall
Our system is protected by a first-class firewall technology that regularly inspects traffic and filters out malicious attackers. We ensure that every data stored in our system is safe and secure.

Data Encryption
Certificate Authority (CA) and HTTPS protection for your website provides encrypted connections by default throughout the internet.

Data Analysis
We provide you with a detailed analysis of your website traffic, to help you understand your audience and grow your business.
Data Protection
your data is your identity and we understand how important that is, which is why we continue to invest in data protection on our servers.
Support Center
If you have any questions, our team of professional customer service is available 24/7/365.
Technical Service
Our qualified support engineers are on deck round the clock to fix any technical issues you may have on your website within minutes. We never leave anything to chance.
Monitoring
Each server we deploy is channeled through high-end monitoring technology to provide you with one of the best security available.
Website Optimization
Our servers deliver a quick response to inquiries from all web browsers. You will never miss any opportunity to get customers and grow your business
Bug Fixing
We find a fix all bugs to make sure that your website runs smoothly. All data connection, internal server or any other errors are dealt with as quickly as they are reported.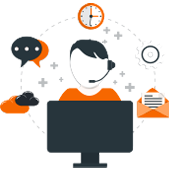 Order New Services
Visit the Order Form to browse the Products & Services we offer. Existing customers can also purchase optional extras and addons here.
Manage Your Account
Already registered with us? If so, click the button below to login to our client area from where you can manage your account.
Powered by WHMCompleteSolution